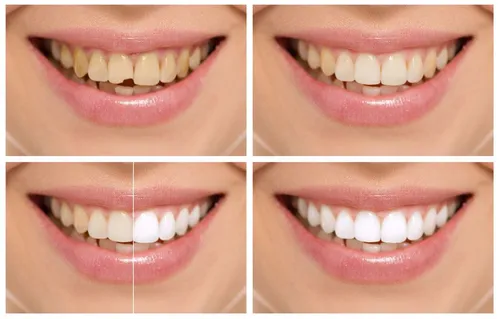 Why do teeth discolor?
Your teeth can become discolored by stains on the surface or by changes in the tooth material:
Discoloration from stains
This occurs when the enamel (outer layer of the tooth) is stained from consuming coffee, wine, cola or other drinks or foods. Smoking also causes stains.

Discoloration from changes in tooth material
This occurs when the dentin (the inner structure of the tooth) darkens or gets a yellow tint. This happens for many reason including issues related to your health and medication.

Age-related discoloration
This is a combination of the above two factors. Dentin naturally yellows over time while the enamel that covers the teeth gets thinner with age, resulting in the dentin to showing through. Additionally, foods and smoking can stain teeth as you age.
What are take-home teeth whitening kits?
Brushing your teeth after every meal will help to prevent some stains, we recommend rinsing your mouth with water after drinking red wine, coffee or other drinks or consuming foods that can stain your teeth. Regular cleanings by your dental hygienist also helps to remove surface stains.
You could also use take-home teeth whitening kits to remove discoloration at home. You will use a whitening gel and custom trays especially created for you using dental impressions made in our office.
What is the process?
The process to whiter teeth is typically completed in the following steps:
During your first appointment we perform a shade analysis to determine your starting point. Then we take impressions of your upper and lower teeth to make a plaster mold. Over the next few days we manufacture your custom trays using the mold ensuring they fit snugly and are comfortable to wear.
During your second appointment, we fit the trays to your teeth, ensuring they stay securely in place and to dispense the whitening gel kit with instructions for home use. You should wear the gel-filled tray for 15-45 minutes per day, to overnight, depending on the strength of the whitening agent. You'll see results within a few days to 2 weeks.
During your third appointment we compare before and after shades and evaluate your teeth.
How much do take-home teeth whitening kits cost?
Dental take-home teeth whitening kits range in price, typically they cost $199 for two-week take-home kits. Talk to Dr. Jeff Weaver about your specific needs.